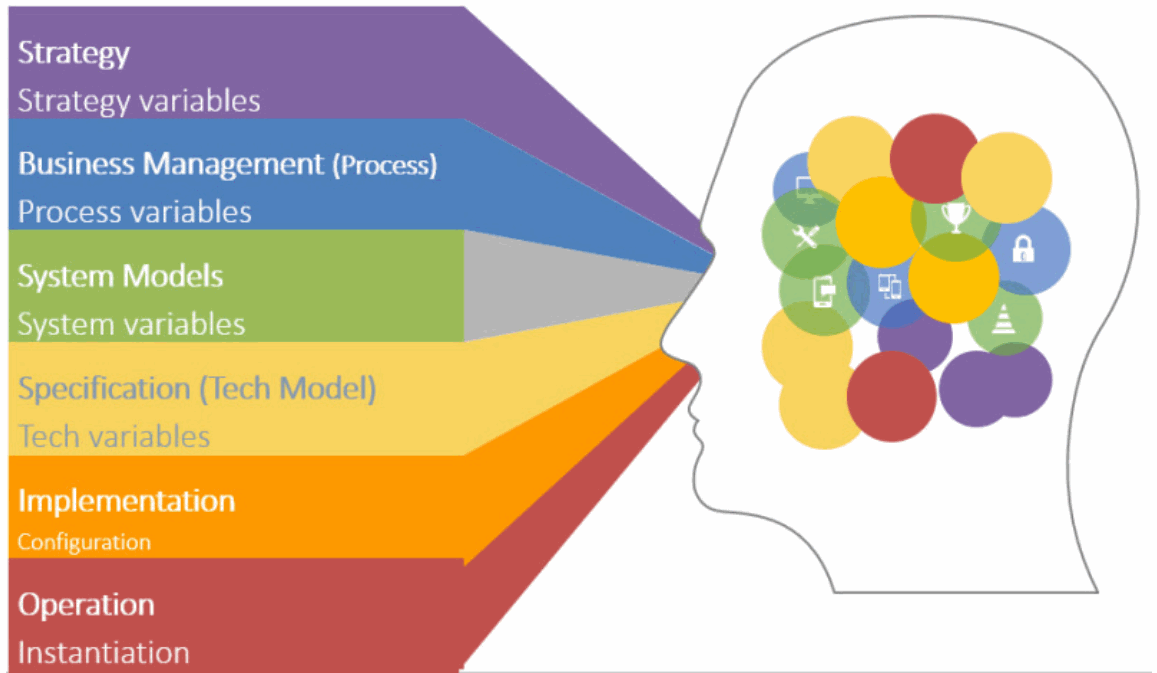 Strategy Challenges & Execution Opportunities
How to manage growing complexity, maintenance overheads, technology obsolescence, time to market for Digital Enterprise
How to create Digital Enterprise Anatomy models by creating "well integrated, models of models"
How to create Enterprise X-rays for faster and reliable decision making
Case studies covering across 18 different industries
1. Faster
Execution

How to define business strategy for better and faster execution and success in Manufacturing
​
​
​
​
​
​
2. Strategy
Variations

How to analyze enterprise building blocks or creating multiple strategies to address opportunities in Finance
​
​
​
​
​
3. Better
Decision, Faster Decisions

How does a CEO create multiple solutions for "Customer Convenience" or "Near Term Growth" using Enterprise Architecture in Telecom
​
​
​
​
John Zachman, Inventor of Enterprise Architecture
Best Practices From Top Rated Digital Projects.
Digital & Enterprise Strategy from global winners
Cathay Pacific Airways, Hong Kong

Philips, Netherlands

Ontario Treasury Board Secretariat

Tata SIA Airlines

TVS Credit Services

ICICI Bank

Al Yaum for Media, Saudi Arabia

L'Oreal Asia Pacific

Coca-Cola European Partners

Economical MutuaInsurance Company Canada

​Future Generali India Life Insurance
Innovation,
Automation,
change
Modernize Consumer Experience by offering a seamless Omni-channel & real-time access to consumers' profile, loyalty program, membership status and historical transactional and non-transactional (digital) interactions.
How to manage existing systems that are characterised by differing states of technical currency, a large amount of technical debt, complexity and tightly coupled integration, with complex and high-cost operational support and change management.
Managing various external and internal factors (such as tighter regulatory scrutiny of costs, Choice, Critical Infrastructure licence requirements to ensure standardization of processes and common Governance Frameworks for Data, Integration, Mobility, Reporting
Implementing one of the largest transformation portfolios in the Supply Chain industry globally to deliver against cost targets. To baseline the IT landscape, reduce costs, support growth, improve outcomes/experiences for customers and build the right capabilities for today
BUSINESS STRATEGY FUNCTION



CEO
COO
Chief Strategist
Digital Strategist
Product Head
Business Heads
​Revenue Heads
​
Department Heads
(Strategy, Product, Engineering, Sales
& Marketing, Quality, Distribution, Support,
R&D, IT etc.)
PROJECT / PROGRAM MANAGEMENT FUNCTION
Program Director
Program Heads
Project Directors
​Process heads
Project Managers
​
POLICY
MAKERS


Industry Policy Makers
Digital Economists
Government Agencies
Trend Setters
​
​
​
Business
Owners

Owners of Privately Owned Business ​
Owners of Publicly Owned
Business
Entrepreneurs
Start-up Heads
A MUST if you want to ACCELERATE Digital Transformation (project over $5 million) and resolve digital strategy or execution problems
Gain undue advantage with skills and INSIGHT which are missing in over 500 Strategy Frameworks
If you are part of a select group, chosen for difficult and challenging projects, go beyond your gut feel, go deeper into Enterprise Anatomy, Digital Enterprise, highly recommended
No upcoming events at the moment
Enterprise


strategy
EXecution